Guess what?! People have been liking our new bicycle shop so much that we just had a news article written about us!!! We would like to thank all of our customers who have given us the opportunity to serve you and make you happy. Check out the article in the Las Vegas Review Journal at:
http://www.reviewjournal.com/view/north/the-vault-resident-opened-bicycle-shop-encourage-people-ride
Here's a repost in case you missed it:
The Vault: Resident opened bicycle shop to encourage people to ride
By SANDY LOPEZ
March 10, 2016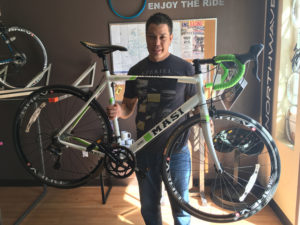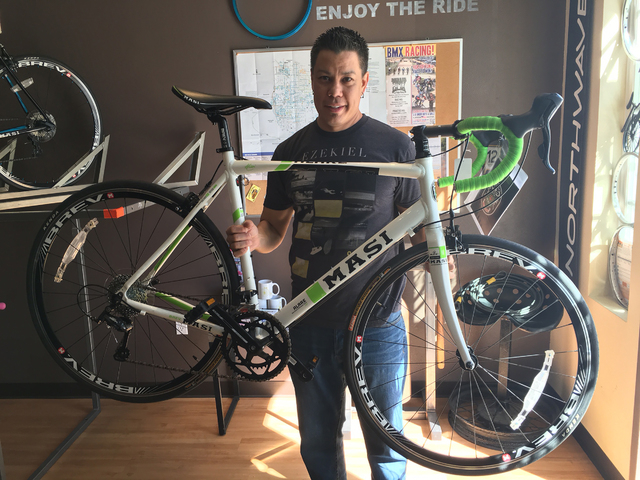 Remember the feeling of riding a bike for the first time? Northwest resident Mike Skoy does.
The owner of The Vault Bicycle Shop recalls it as a defining moment of his life because it was his first true taste of freedom.
"I remember when my dad was teaching me how to ride, and he pushed me off, and I began riding by myself," Skoy said. "I remember that feeling of doing it and going further and further. I felt like I was free. It's such an amazing feeling, but when people grow up, they tend to lose that feeling of independence."
That's why Skoy, 40, decided to open his shop at 7575 Norman Rockwell Lane, No. 120, in May 2015.
"I want to help people rediscover their love of biking. To me, it's more than riding; bicycling is a way of life," he said. "Some people call it the truest form of transportation. It's so easy to lose yourself from the stresses of the world."
It's not only Skoy's passion that sets his shop apart from others; it's his experience. At 12, he began racing BMX bikes competitively through his late teens. Then, he got into mountain biking, embracing the rough terrain of the Las Vegas trails.
Inside the bicycle shop, customers can find anything from beach cruisers to BMX hybrid, road and mountain bikes. Skoy also sells starter bicycles for children, and if customers can't find what they're looking for, he can try to special order it.
Bicycles range from $200 to $6,000.
"A lot of shops specialize in one or two things," Skoy said. "Me, being an avid cyclist, I love all wheels. Our motto is that all bikes are welcome."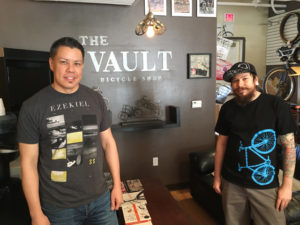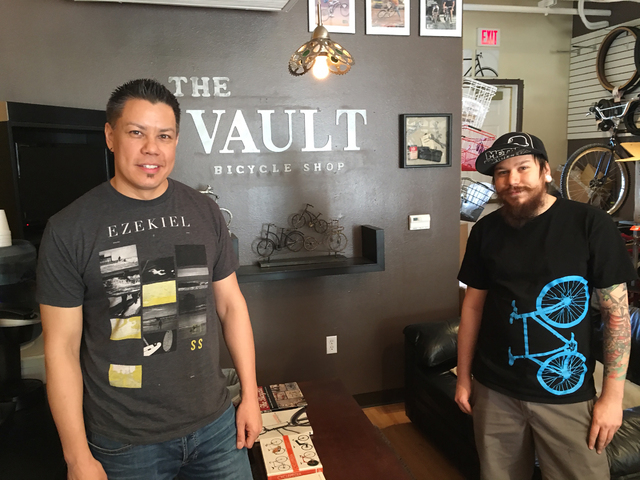 Skoy and his employee, Chris Bernardi, 25, pride themselves on the shop's laid-back atmosphere where customers can hang out, sit on a chair made out of recycled bicycle tires and have a cup of coffee and talk about bicycling.
"We're a relaxed shop, and we're inviting," Bernardi said. "If anyone has a question, we want them to come here and feel welcome. We've both been riding trails in the area here for a few years now, so we love recommending places to bike."
Bernardi and Skoy are both United Bicycle Institute-certified bicycle mechanics and offer full service, including tune-ups, assemblies or other repairs.
In addition, the shop sells bicycle accessories, such as helmets, clothing, gloves and accessories.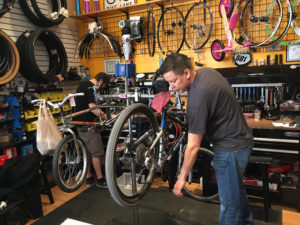 "We carry something for everyone," Skoy said. "If I sell you a bike, and it sits in your garage, I feel like I didn't do my job. My job is to get to know my customers and what they're looking for. I want to sell them the correct bike."
The Vault Bicycle Shop is open from 10 a.m. to 6 p.m. Tuesday through Saturday and 11 a.m. to 3 p.m. Sunday. Visit thevaultbicycleshop.com or call 702-839-9091.
To reach North View reporter Sandy Lopez, email slopez@viewnews.com or call 702-383-4686. Find her on Twitter: @JournalismSandy.